Misatango
Ballet Julien Lestel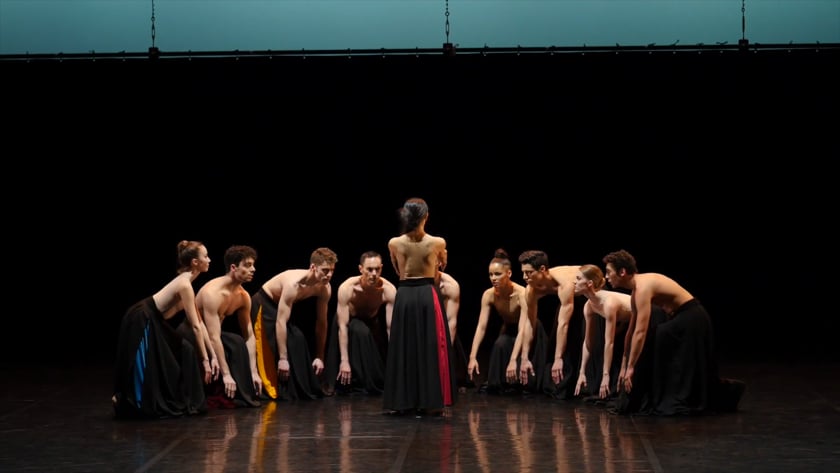 Choreography : Julien LESTELCreation : 2018
Music : Martín PALMERI
Costumes : Patrick MURRU Lights : Lo Ammy VAIMATAPAKO
With the dancers of the Ballet Julien Lestel
Composed in 1996 by the Argentine composer, Martín Palmeri, Misatango is a completely renewed mass.
It is composed on tango tunes and thus weaves a link between sacred music and popular Argentine tango music.
The choreography is also tinted with two colors. It is imbued with both deep spirituality and great sensuality.
The gesture is in turn iconic expressing the recollection and the search for transcendence, but also very carnal, expressing voluptuousness and freedom of bodies evolving in ample and powerful movements.
Misatango is a choreographic highlight of the original creation by the Argentine composer.
« We will not hesitate to talk about a masterpiece here. Julien Lestel accomplished this feat by making a very contemporary choreography without denying the memory of the masters who preceded him. »
Danser, Paolo Fargues
The Ballet Julien Lestel receives the support of the city of Marseille and the Departmental Council of Bouches-du-Rhone. Julien Lestel is an artist associated with the theater of Gascogne Mont-de-Marsan, a subsidized stage of national interest.
balletjulienlestel.com
JULIEN LESTEL
Directeur Chorégraphe
Ballet Julien Lestel
GILLES PORTE
Danseur soliste – Maître de Ballet
Ballet Julien Lestel
EVA BÉGUÉ
Danseuse soliste
Ballet Julien Lestel
TITOUAN BONGINI
Danseur soliste
Ballet Julien Lestel
FLORENT CAZENEUVE
Danseur soliste
Ballet Julien Lestel
JEAN-BAPTISTE DE GIMEL
Danseur soliste
Ballet Julien Lestel
ROXANE KATRUN
Danseuse soliste
Ballet Julien Lestel
INGRID LE BRETON
Danseuse soliste
Ballet Julien Lestel
INÈS PAGOTTO
Danseuse soliste
Ballet Julien Lestel
MARA WHITTINGTON
Danseuse soliste
Ballet Julien Lestel
MAXENCE CHIPPAUX
Danseur soliste
Ballet Julien Lestel
LOUIS PLAZER
Danseur soliste
Ballet Julien Lestel
JULIEN LESTEL
Choreographer Director
Ballet Julien Lestel
GILLES PORTE
Soloist dancer – Master of Ballet
Ballet Julien Lestel
EVA BÉGUÉ
Soloist dancer
Ballet Julien Lestel
TITOUAN BONGINI
Soloist dancer
Ballet Julien Lestel
FLORENT CAZENEUVE
Soloist dancer
Ballet Julien Lestel
JEAN-BAPTISTE DE GIMEL
Soloist dancer
Ballet Julien Lestel
ROXANE KATRUN
Soloist dancer
Ballet Julien Lestel
INGRID LE BRETON
Soloist dancer
Ballet Julien Lestel
INÈS PAGOTTO
Soloist dancer
Ballet Julien Lestel
MARA WHITTINGTON
Soloist dancer
Ballet Julien Lestel
MAXENCE CHIPPAUX
Soloist dancer
Ballet Julien Lestel
LOUIS PLAZER
Soloist dancer
Ballet Julien Lestel